How to Transfer Your LLC from One State to Another
You need to move to a new state. What will happen to your LLC when you go?
You'd rather not see all of your hard work go to waste or give up on operating a successful company.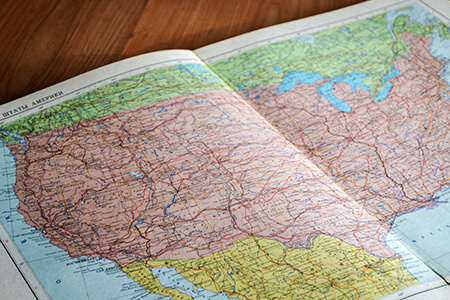 Fortunately, you have lots of options, so you don't have to leave your dreams behind. Here are some ways to complete the transition with your LLC intact.
Begin Again From Scratch
In some cases, you'll want a fresh start. If this sounds like you, then you can simply form another LLC in the new locale and get rid of the old one.
Formation and dissolution might be the only ways to keep your business running if your new state doesn't let you domesticate, or transfer, an LLC from a foreign locale. Creating a new entity might also appeal to those who don't want to deal with the complexities of running a company that's registered elsewhere.
Domesticate Your Existing LLC
Forming a new LLC isn't ideal if you're not a fan of extra paperwork. For instance, your plate might already be too full for additional responsibilities, such as obtaining a new tax ID number, conducting another name search or rebuilding the great credit you previously established.
Domesticating an LLC in your new state helps you avoid these issues, and the paperwork may be easier than other options. If your destination doesn't forbid such transfers, then you can move things along by getting a certificate of good standing, also known as a certificate of subsistence. This document asserts that your LLC

Exists in the original state's record database,

Has fulfilled its filing obligations, and

Is authorized to do business in the original state.

You'll file your subsistence certificate along with the appropriate articles of domestication and fees for the new state. After completing the transfer, you should dissolve the LLC in the original state. Wait to perform this last step until you're satisfied that the filing went through so that your business operations don't get delayed by technicalities.
Register as a Foreign LLC
Foreign business entities are those that operate in one state while being domiciled elsewhere. This alternative may seem a bit more complicated than the others, but if you're unsure how long you'll be staying in the new place, then it could be more convenient in the long run. It's also worth considering that your original state may offer you tax breaks or other incentives that make it prudent not to move everything.
Registering to operate as a foreign entity usually entails filling out and submitting the relevant forms, so it's fairly straightforward. After you commence operating, however, you may have to deal with additional requirements, such as

Paying extra franchise taxes,

Hiring someone to act as your registered agent in the new state while maintaining your agent in the original state, and

Taking on additional reporting obligations.

Like domestication, operating as a foreign entity carries perks like being able to keep your banking information and credit standing. Many business owners use this option when they plan on expanding their operations with new franchises, facilities or locations. It could be the right move if you're anticipating significant growth.
Choosing the Best Option for Your LLC
All of these methods have their pros and cons. Before picking your poison, it's smart to consider the legal and financial implications of maintaining or changing your tax classification.
Depending on where you move and what you do, you might also have to jump through different hoops to maintain your licensure. Regardless what you end up choosing, having a permanent address can make it easier to ensure that your enterprise survives the transition with minimal operational downtime.
PhysicalAddress.com is a cloud-based virtual mail and
virtual address
service. Travelers, Students, Military personnel or anyone who would like access to their postal mail via a computer or smartphone can leverage the virtual mail service. Access to mail is available across multiple platforms, including iOS and Android. The
mailbox forwarding
service allows clients to view, open and forward mail from anywhere at anytime.
Business clients can setup a business address by leveraging multiple premium physical addresses offered by PhysicalAddress.com to attract international clientele, set up a Corporation or LLC, market their company and virtualize their postal mail.