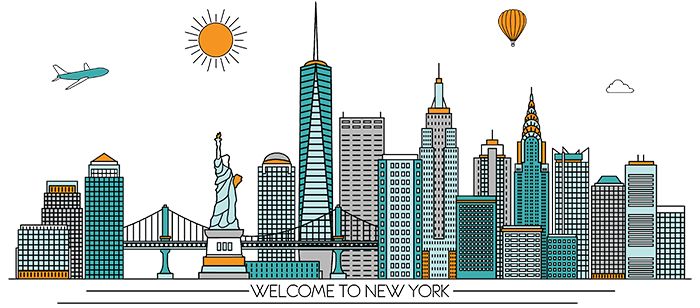 Forming a limited liability company, or LLC, appeals to many would-be entrepreneurs. In states like New York, it's important to follow the rules if you want to reap the rewards of legal operation. Here's what you should keep in mind.
Your LLC Needs a Valid Name 
LLCs that want to do business while domiciled in New York must operate under official names that reflect their organizational structures. In other words, your company's title needs to include "Limited Liability Company" or an abbreviation of the same, such as LLC.
It's also important to have a unique name that's easy to tell apart from other businesses that are registered to operate in New York. Before settling on a permanent moniker, search the state's Corporation and Business Entity Database to be sure that you're not trying to use an existing designation. Once you find a good name, you can pay $20 and apply to reserve it for up to 60 days.
Formalize Your Structure and Representatives for Legal Service 
As do other states, New York requires LLCs to file Articles of Organization, a document that outlines how your enterprise will be governed. The Articles of Organization paperwork costs $200 to file, and it will need to include things like your LLC's
 
Name,


 

County of operation, and


 

Address where you'll receive forwarded legal service, such as lawsuit filings.


 
LLCs in New York must defer to using the New York Department of State as their registered agent for receiving legal service. You can also include other parties as supplemental agents, such as
 
Residents of New York,


 

Foreign LLCs or corporations, and


 

In-state LLCs or corporations.


 
Formalize How You'll Operate 
Operating Agreements are critical for forming LLCs. These documents clarify key issues, such as the ownership structure, liabilities, powers, responsibilities and financial standards that govern your company. In New York, you can formalize your Operating Agreement before you file the Articles of Organization or up to 90 days later.
You don't need to file your Operating Agreement, and the law doesn't specify penalties for not having it, but it's wise to create and adopt one anyway. You may be able to squeak by legally without it, but if you end up in court for any reason, then it could prove critical in deciding the outcome.
Publish Notices in Two Newspapers 
The state gives you 120 days to publish a copy of your Articles of Organization or an official notice about your formation in two newspapers. When you publish, you'll receive a written affirmation from the newspapers in question, which should also be officially designated by the county clerk of your operating jurisdiction. You'll then have to pay $50 to file the affirmation along with a completed Certificate of Publication.
Register Foreign LLCs 
Want to do business in New York while remaining organized elsewhere? You'll need to apply for authority, which carries a $250 fee and requires that you use the postal service. Your application should include Certificate of Existence from your home state confirming the validity of your LLC in your home state, and such proof can be no more than one year old.
Jump Through the Regulatory Hoops 
You'll find it easier to manage your LLC if you stay on top of your legal obligations from the very start. Remember that you might need to
 
PhysicalAddress.com is a cloud-based
virtual mail
and business address service. We provide a secure streamlined service that delivers high-quality mail scans directly to a client's online private virtual mailbox. Access to mail is available across multiple platforms, including iOS and Android. The
mailbox forwarding
service allows our clients to view, open and forward mail from anywhere at anytime.
Clients looking for a business address can leverage multiple premium physical addresses offered by PhysicalAddress.com.