Tips to Help Home-Based Businesses Defeat Porch Pirates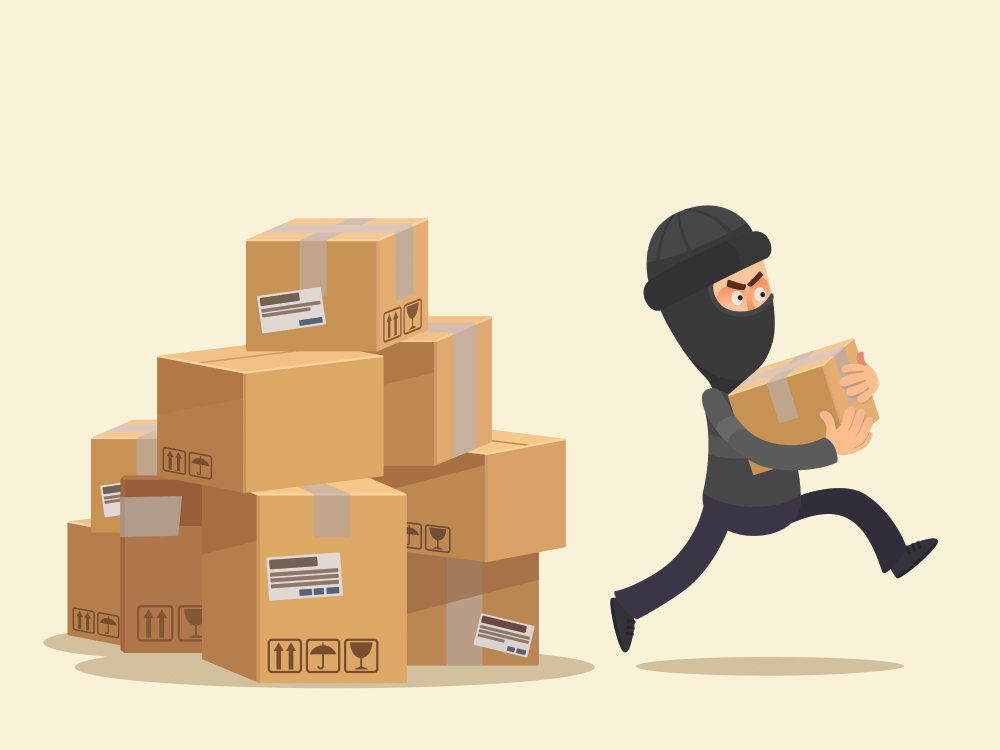 If you are unfamiliar with the term, porch pirates are thieves who focus on stealing parcels from the porches, sidewalks, and driveways on which delivery drivers have left parcels. Because the post office, FedEx, UPS, and most other carriers allow many packages to be delivered without requiring recipients to sign for them, you may not be aware of a delivery until hours after it has been left. Porch pirates, who often work in teams of two or more people, tend to be fast enough to grab several packages from different homes in a matter of minutes before driving away with their ill-gotten gains. Porch pirates are typically most active during the holiday season, especially in times of economic uncertainty. If you operate a home-based business, there are steps you can take to reduce your chances of falling prey to a porch pirate.
1. Do not use your home address as your shipping address.
You can sign up with a service that will provide you with a physical mailing address for an economical fee. Typically, these services will accept deliveries from FedEx, UPS, USPS, and virtually all other carriers. If you live near the city in which your provider is located, you can pick up your packages. Your provider can also forward your packages, and the information they furnish when they receive and forward your package can help you determine when to expect delivery. Most virtual mailbox and address services can also specify that the carrier must obtain your signature or verify your identity before surrendering your package.
2. Always ask vendors to provide tracking information.
Some vendors volunteer tracking numbers, but other vendors will not provide the information unless you specifically ask for it. Once you receive the tracking number, you can follow the progress of your shipment online at the carrier's website. If you just copy and paste the tracking number in your browser's search bar, Google will usually provide you with a direct link to the carrier's tracking information without the need to access the site first. Once you have reached the carrier's site, you can sign up for email or text notifications every time your tracking information changes. Knowing the date on which your package will be delivered lets you make sure that you are home or arrange for a neighbor to watch for and pick up your parcel.
3. Require your customers to obtain authorizations for returns.
If you sell a physical product, sooner or later, you will encounter a customer who wants to return it. The specifics of your return policy will depend on your situation, but your policy should be easy for your customers to find, and it should include a requirement for customers to notify you by email, text, or phone to request permission to make the return. You do not want to damage your relationship with the customer by having an onerous process, but one critical item in your policy should be that the customer must provide you with a tracking number for the returned item. You can then follow the same steps that you follow to track an incoming shipment from a vendor.
4. Ask carriers to leave packages in the safest location.
Most vendors allow you to enter delivery instructions that let drivers know where you want them to leave your packages. If your home office has a window overlooking a side porch, for example, you might request that all packages be left there instead of your front porch. However, do not request a delivery location that the driver cannot access easily or safely, including a patio secured behind a locked gate or a back porch protected by a large dog. Some carriers allow you to request delivery on a certain day or time, but you will typically need to establish an online account first, and the carrier may not be able to comply with your request.
5. Consider investing in technology.
One excellent device to help you combat porch pirates is a smart doorbell. A video camera records the activity on your porch, while the motion sensors send an alert to your phone to notify you of the activity. Most smart doorbells allow you to conduct a two-way conversation with the person on your porch, and you can conduct this chat even if you are not at home. If you receive numerous shipments from Amazon, you might consider signing up for Amazon Key. This service allows Amazon drivers to place your packages inside your garage or house. However, the service is currently available only to Amazon Prime members in certain locations. Another interesting device is called the Package Guard. You download an app, place the device on your porch, and instruct delivery drivers to leave packages on top of the device. If anyone attempts to remove the package without first deactivating the device with the app, a loud siren is activated. Should you want a lower-tech device, you might consider purchasing a Porch Pirate bag. This bag can be locked to your gate or door, and it has a second lock that delivery drivers use to secure the packages placed inside. Admittedly, the bag is not exceptionally large, and a thief armed with a sharp knife could conceivably cut it open, but it is relatively inexpensive.
6. Get to know your neighbors.
Even if you do not consider yourself a people person, it can pay to participate in a neighborhood network. You do not want to spy on your neighbors, but you should pay enough attention to their normal activities to help you identify unusual activities. Hopefully, they will reciprocate. You might consider joining or starting a neighborhood watch program to help make your entire neighborhood safer throughout the year.