Organizing Your Home Office 
Working from home is something many dream of accomplishing one day. What could be better than earning a living straight from the comfort of your own home office? This dream is steadily becoming a reality as many companies have started to realize the benefits of having employees work remotely from home.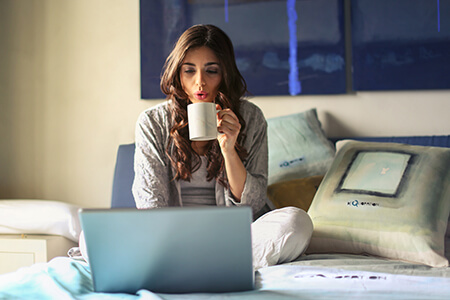 Whether you work for a company like this or you operate your own home business, the dream can quickly become a disaster if your home office is a catastrophe waiting to happen. Make sure your home work space is an organized, productive area with these ten simple decluttering tips.
Perform a Paper Purge  
Papers pile up quickly in a home office. If your desk, table, or even your floor has already been taken over by paper clutter, the very first thing you need to do is purge the paper! Go through each and every piece of paper lying around your office and decide whether you should toss it, file it, or act on it. For those things you intend to act on immediately, place them in a separate pile and act on them as soon as you have completed your paper purge. Once you have acted on them, you can file or toss them.
Color-Code Your Files  
To easily locate those papers you just filed away, assign a color to each area of your life. For example, use red file folders for anything medical, blue for insurance, green for medical, yellow for personal, and orange for anything related to your house. Don't forget to label each folder according to its contents. Not only will this make it easier for you to locate exactly what you need when you need it, but it will also make filing those papers away as soon as they hit your desk seem like a much lighter task.
Set up a Mail Station or get a Virtual Mailbox
In an effort to keep better track of all the paper that floats into the office, create a mail station. Whether you place this station on the wall or use a desk organizer, it will help organize your work life in a way you could never imagine. Mail slots should include:
Outgoing mail


 

Bills


 

Mail that requires immediate attention


 

Mail that needs to be filed away

 
It's also a smart idea to keep a paper shredder near the mail station to immediately trash any junk mail that comes in. Your mail station should be easily accessible and in plain sight. At the end of the week, look through the mail in the file slot and file it away in the proper color-coded folder, pay any bills that are due, and mail anything in the outgoing mail slot that hasn't already been sent. If there is any mail in the immediate attention slot, tackle it right away so that you can start with a clean mail station the next week.
Designate a Printing Station  
Printers take up space and can be an annoyance if kept on the desk or work area. Create a specific area in your home office to house your printer and all printing supplies. If you have a wireless printer, it can be placed anywhere in your office. However, if you need to connect your printer to your computer, set up a separate cabinet or table next to your desk so that your work area is kept clean. A clean work space is conducive to productivity.
Keep it Contained  
Store all of your office supplies in baskets, bins, organizers, and other containers. Keep these containers out of sight in desk drawers and cabinets. Not only will this method keep your clutter contained, but it will also keep it out of sight and give your office a clean, put-together look and feel that is essential to maintaining a successful work environment.
Buy a Label Maker  
If a label maker isn't already an important item in your office, buy one and use it. Label boxes, drawers, files, your mail station, and anything else that can be labeled. Any time you or someone in your office needs something, it can be quickly and easily located.
Categorize Your Office  
Categorize your office supplies and place like items together. For example, place stamps and envelopes near the mail station. Place any writing tools in one specific area, and put tabs, sticky notes, stickers, and paper clips in another. Keep all tools like staplers, scissors, and hole punchers in the same place. When there is a place for everything, and everything is in its place, your work life is simplified.
Coordinate Your Bookshelves  
Organize any books in your office in one convenient area. Categorize them by whatever method works best for you. If you organize them by color, it adds a stunning element of design that can give your home office a clutter-free, polished look. However, you may find it more practical to categorize your books by topic. Find what method works best for you and always place a book back in its proper slot when you are done with it.
Organize Life Binders  
Place your most important documents in color-coded, labeled binders so that you can grab them quickly in the event of an emergency. Following are some binder categories you might consider:
Medical – Any of your family's important medical information should be stored here.
Auto – Keep track of all documents related to your vehicle in one convenient binder.
Pet – This binder should contain any medical records or other important documents related to your pet.
House – All information related to your house should be kept here. This should include documents like insurance, maintenance, and any numbers for pest- control, plumbers, or other home services you may need.
Manuals – Keep a separate binder to store all manuals. Keeping them all in one place will make it simple to find what you need when you need it.
Make Use of Wall Space  
Don't stare at a blank wall all day – make use of it. Many people completely overlook this step when organizing their home office. The wall can do so much more than just hold up the ceiling. Utilize the space to hang your mail station, whiteboards, calendars, and other office items. Going vertical can free up a large amount of floor and table space in your home office, giving it much more of a clutter-free, organized appearance. 
PhysicalAddress.com is a cloud-based
virtual mailbox
and
virtual business address
service. Small businesses, home-based businesses, Travelers, Students, Military personnel or anyone who would like access to their postal mail via a computer or smartphone can leverage the virtual mail and business address service. Clients can manage their virtual address and postal mail using a computer, iOS or Android device. The
mailbox forwarding
service allows clients to view, open and forward mail from anywhere at anytime.
Business clients can purchase a virtual address for business by leveraging multiple premium physical addresses offered by PhysicalAddress.com to attract international clientele, set up a Corporation or LLC, market their company and virtualize their postal mail.