Owning and operating your own business from the comforts of home may seem like a distant dream. Many imagine the day they can quit their dull, uneventful jobs to join in the ranks of those lucky few who somehow manage to make that dream come true.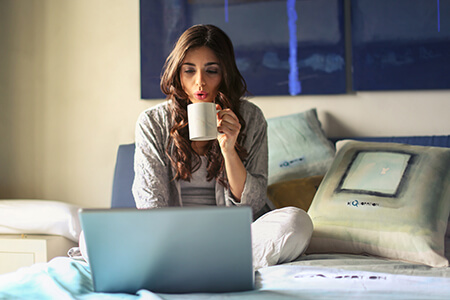 Unfortunately, most of those who dream about that day stop at the dream and never pursue the reality. The reality is, it can be done! Believe it or not, you can make that dream come true. More people than ever before are now enjoying that very same dream. Except for them, that dream is a part of their everyday life. With the right vision, motivation, passion, and determination, it can be for you, too.
In our ever-expanding world of knowledge and communication, a virtual garden of digital tools has been laid out in front of anyone willing to dig in and get to work. Never before has such a grand display of knowledge and opportunity been available to the small business owner or entrepreneur.
Whether you sell products from home, design and sell websites, work as a consultant, or use your skills on a freelance basis, today's advanced technology has made it possible to get the word out about your business in a way small business owners of the past never even imagined. Let's have a look at some predictions, statistics, and growing trends in the business world that home-based entrepreneurs and small business owners should learn before attempting to navigate today's competitive business landscape.
The "Freelance Economy"
One area of income that has dramatically opened up to those who dream of working at home is the "freelance economy," or "gig economy." As a result of a quickly expanding digital world, solopreneurs with professional skills or other qualifications have taken advantage of online opportunities to use their skills from the comfort of their own home. A growing number of companies have also started to offer remote positions to employees who are able to work from home. Many times, these remote employees can even live in another city or state. While working remotely from home is not necessarily a new concept, it has become an expanding trend as many organizations learn to see the economic benefits of such an arrangement. Not only do employees tend to be more productive from home, but a number of costs can be cut on both ends. The concept of hiring remote workers is quickly becoming a win-win situation for all involved. In 2016, the New York Times reported that over 40 percent of the United States workforce was performing some remote work. It is estimated that approximately half of all millennial in the workforce are employed as freelancers, and it is projected that many others will begin to join the ranks of remote workers and freelancers within the next decade. The rising trend of remote work and the growing comfort of employers to hire freelancers or allow employees to work from home has opened the door of opportunity to many. No matter what expertise or internet-enabled skill you have, you almost assuredly can turn it into a prolific home business as long as you have the determination, passion, and motivation to pursue it.
Artificial Intelligence and Personalized Marketing
Thanks to AI-based and personalized marketing tools, small businesses and home-based business owners can experience greater production than in the past. While the concept of AI marketing technology being made available to home-based businesses may seem unrealistic, it is not unreasonable to expect software functions, social media tools, and AI-driven platforms in customer relations to soon make themselves accessible to small and home-based business professionals.
This technological leap into the digital business world will not only allow small businesses to offer the same kind of personalized customer experiences larger companies currently offer, but it will allow them to do so at the same level and volume without the added expenses of an on-site army of employees. As an example, software by the name of Acquisic assists home-based businesses in digital marketing optimization across a multitude of platforms.
Workplace Evolution
The concept of a workplace will continue to change as more advances are made, thus opening up credibility and a number of new opportunities for home-based small business owners. According to a recent Staples workplace survey, 43 percent of employees stated that the option to remotely work from home is considered a "must-have" for today's workforce. Furthermore, the survey went on to reveal that a mere 27 percent of millennial employees reported spending all of their work time in a traditional office. What this signifies for today's small businesses is that it is becoming less and less important to have a traditional storefront or office environment. What does seem to be gaining in significance regarding the success of small businesses is a strong social media presence, a good website, an impressive list of network contacts, and other digital assets.
As reported by the Small Business Association, sole proprietorships continue to lead the way as the most common type of home-based, small business with approximately 50 percent of home-based businesses operating as sole proprietorships. However, there is another type of small business classification slowly gaining popularity. A number of benefits come with establishing a home business as a single member LLC, or Limited Liability Company. Setting up your business as an LLC can help protect personal assets in the event a legal liability claim is filed against your business. Services like IncFile and Legal Zoom offer affordable LLC formation packages to assist with establishing your business as an LLC.
Home-Based Businesses on the Rise
The steady decline of brick and mortar businesses in favor of e-commerce platforms over the last decade has significantly shifted the scope of the workplace. Any number of opportunities are out there waiting for you to grab them. For example, a large number of marketing roles can be conducted from home. Likewise, accounting and bookkeeping services, as well as web design and content production, can be done from the comforts of a home office. Tech support has also become a popular remote career. The escalation in e-commerce platforms creates significant opportunities for entrepreneurs to pursue the dream of working from home and develop it into a reality.
PhysicalAddress.com is a cloud-based
virtual mail
and
virtual business address
service. Small businesses, home-based businesses, Travelers, Students, Military personnel or anyone who would like access to their postal mail via a computer or smartphone can leverage the virtual mail and business address service. Clients can manage their virtual address and postal mail using a computer, iOS or Android device. The
mailbox forwarding
service allows clients to view, open and forward mail from anywhere at anytime.
Business clients can purchase a virtual address for business by leveraging multiple premium physical addresses offered by PhysicalAddress.com to attract international clientele, set up a Corporation or LLC, market their company and virtualize their postal mail.