Thanks to advancements in digital technology, the established role of the consumer has shifted. No longer do customers rely on sales people to educate them in products they are considering to buy. In today's world, they are better equipped to navigate the online world and make more informed decisions. The digital age has allowed customers to discover a new voice, and sometimes this voice can be far reaching if they are unhappy. Today's advanced media allows them to directly connect with businesses and other consumers, publicly addressing their concerns and experiences. In light of these changes in the role of the customer, best practices in customer service must also experience some necessary changes.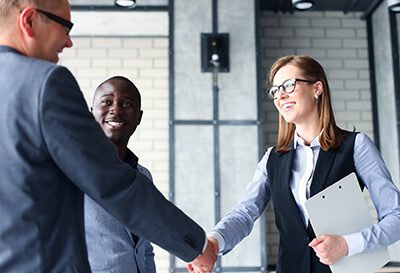 Since clients and consumers expect to be able to contact your business or agents directly and instantaneously through social media and other digital outlets, it stands to reason that they have equally grown to expect resolutions to questions and concerns just as quickly. Your support team should be ready to address customer concerns quickly and efficiently in a manner that lets the customer know they are your utmost concern.

Best practices in customer service expands beyond your customer support team; however, if there is one thing the digital age of connectivity has driven home in the buying world, it is that customers desire to be treated as people and prefer to buy from people. That is, they desire a relationship that previously was not available to them. In a world of connectivity where advancing technologies help shape the relationship between the consumer and the company, actual relationships between the buyer and the business are steadily becoming a reality. In an effort to establish this kind of working relationship, it is necessary to develop a familiarity with clients through social media and other online outlets. To maintain this essential relationship, you must be prepared to provide the best digital customer service possible.

Consumers are a means to an end to the majority of businesses. Without your customers, your business won't generate a profit, and without a profit, your business will not last. It only makes sense that you would want to maintain your customers as a primary focus. Unfortunately, many businesses with this mindset inadvertently end up treating customers as numbers. This is a practice you want to avoid at all costs. Customers naturally don't want to be treated like just another number on the board, and they are likely to switch brands and companies if they feel they are not being treated as individuals. However, it isn't enough to simply establish a single customer service department designed specifically to address consumer questions and concerns in a high-quality manner. Inevitably, your customers will interact with other departments. As such, it is necessary to develop a high-quality level of customer service that is consistent across all departments within your company. Many studies have shown that customers will leave in search of another brand if not treated well.
Your clients expect exceptional customer service that is not only customer-focused and friendly, but consistent. Consider the following list of customer service best practices when designing your support infrastructure:

1. High Quality Support Staff

Your staff of your business. It is through your agents that you form customer relationships and maintain them. This is an extremely important aspect of your business, and the job should not simply be entrusted to just anyone. Make certain your customer service employees and agents are up to the task of providing the absolute best service available. In order to attract this kind of devoted employee, you must be prepared to treat them right. Offer competitive payment and benefits packages as well as a well-defined path to future promotion. You should also make the job more appealing through rewards and gamification. By hiring and retaining exceptional customer service agents, you can expect them to provide exceptional customer service.

2. Start off on the Right Foot

In the business world, there are no second chances when it comes to making a first impression. Make sure your agents are prepared to deliver an astounding first impression on new customers. In a world where customers can simply switch screens and start doing business with another company with just a click of the mouse or a tap on the touchscreen, it is essential that your customer service team delivers a first impression that customers simply can't resist. A customer/company relationship that starts off strong is more likely to grow and stay strong.
3. Tell Customers to the Truth

Customers expect a lot, especially in an age where so many options. If you can't dish out what you promise, they will simply move on to someone who will. This is why it is important to be straight with them and tell them the truth. Let your customers know up front what they can expect, and then do everything in your power to meet and exceed those expectations. By delivering more than you promised, customers see that you are willing to put them first and go the extra mile to make them happy. If you don't promise more than you know you can deliver, there will be no need for damage control later.
4. Learn About Your Customers

The best customer support is informed. Agents can gather valuable customer information as they interact with clients simply by asking the right questions. Not only does this allow your agents to develop a productive dialogue with customers, it also allows your business to receive valuable information and feedback that can assist you in developing a stronger, personalized customer experience.

5. Customer User Experience is Everything

Customer Relationship Management, or CRM, tools can go a long way in helping establish a personalized customer experience. CRMs not only gather and analyze data, they also track the histories and preferences of each client. As such, businesses are better equipped to deliver a one-on-one customer service experience that keep clients coming back. Personalized customer care often has an extreme impact on customer loyalty to a company or brand.

6. Multi-Channel Availability

In today's technologically advanced digital world, clients have a variety of channels to connect with you. Make sure that you are available through all of them. From traditional telephone, to a mobile device, to web chat, social media, online forums, and more, a customer service center that is available on all levels will demonstrate to clients that you allow them to dictate how they communicate with you. This can go a long way in establishing the friendly relationship today's customer is seeking. The practice of making the same data available to customers across various channels can also be established with a reliable CRM.

7. Always be Customer Centric

It's one thing to say your customers are the heart of your business, but it is quite another to demonstrate it. Clearly define the customer service standards for your business and do not stray from those standards. Keep customers fully informed, and give your customer service agents the necessary tools to properly provide quality customer service that exceeds expectations. When they do, reward them. Your customers are the heart of your business. Without them, your company can not survive. Maintaining your primary focus on them is the best practice you can put in place.
PhysicalAddress.com is a cloud-based
virtual mail
and
virtual business address
service. Small businesses, home-based businesses, Travelers, Students, Military personnel or anyone who would like access to their postal mail via a computer or smartphone can leverage the virtual mail and business address service. Clients can manage their virtual address and postal mail using a computer, iOS or Android device. The
mailbox forwarding
service allows clients to view, open and forward mail from anywhere at anytime.
Business clients can purchase a virtual address for business by leveraging multiple premium physical addresses offered by PhysicalAddress.com to attract international clientele, set up a Corporation or LLC, market their company and virtualize their postal mail.