Everyone needs a way to create a consistent income to meet their needs. However, some lifestyles don't work well with a traditional nine-to-five schedule. For some people, the freedom of self-employment makes the most of their strengths while others may need to stay close to home to care for family or work around health issues.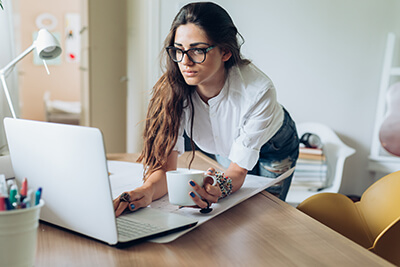 Whatever your reasons, it is possible to make a part- or full-time income with a home-based business. Understanding which home-based business opportunities work best for your needs is the first step in finding long-term financial freedom. 
 
1. Etsy Crafter 
 
As one of the largest marketplaces for handcrafted products in the world, Etsy has a lot to offer the aspiring entrepreneur. Unlike building a website, Etsy already has systems in place for taking payments and shipping product. As a seller, you merely provide a product and pay a small fee to use these systems. Etsy is a very saturated market, however. You must have a top-quality product and market aggressively to stand out from the competition. 
 
2. In-home Daycare Provider 
 
No matter where you live, quality daycare is always in demand for working parents. Do your homework before deciding to open a daycare. You will need to follow all licensing requirements in your state. Also, don't be afraid to fine tune your prices so that you are offering rates that are both affordable to your clients and sustainable to your bottom line. 
 
3. Sell Digital Products 
 
This top home-based business allows you to invest time up front for residual income. It also has very little overhead outside a website and some creative software. Digital products include things like art prints, DIY tutorials and educational materials that can be delivered via email to multiple clients. Keep your selection fresh to draw both new and repeat clients.  
 
4. Tutor 
 
This opportunity is particularly lucrative if you live in proximity to a college or university, but many people succeed with just high school aged clients. Professional tutors charge anywhere from $10-30 an hour, but research your local market to determine what a viable range is for your client base. 
 
5. Provide a Necessary Service 
 
If you are an expert at performing a needed service, you can sell it to others in your area who don't have the time to do it themselves. Common service businesses include housecleaning, yard work and odd jobs. You will have some overhead including supplies and travel expenses to job sites, but these should be minimal. 
 
6. Uber Driver 
 
Owning a newer car and living in an urban area are all that's needed to drive for Uber or Lyft. This is a flexible job that works around even the most challenging schedule. Uber isn't active in every area of the country yet, but if you live in a city where the app is available, it's entirely possible to make this your sole source of income. 
 
8. Virtual Assistant 
 
If you need a job that you can do entirely at home, look into becoming a virtual assistant. You can offer either broad or specific services that include secretarial work, personal shopping or making appointments. Think about tasks that business people need but may not have time to do themselves, and target those markets. 
 
9. Writer 
 
For anyone with a way with words, freelance writing is a top home-based business with a lot of flexibility. Content brokers provide consistent work but offer lower pay rates. If you pitch directly to clients, you can charge more but have to do the legwork to find jobs. There is a huge range of pay for freelance writing, but the most successful professionals make six figures. 
 
10. Reseller 
 
Spending a Saturday at yard sales or antique shops isn't generally considered a money-making venture. However, if you have a good eye, you can build a business buying bargains that you then resell for market value on EBay. Look for brand name clothing, collectibles and high-quality antiques. Steer clear of bulky items that will be cost prohibitive to ship. 
 
Given a choice, most people prefer working from home over traveling to an office every day. Unfortunately, not every company allows telecommuting. The good news is that you can create your own opportunity with one of these top ten home-based business ideas for 2017. 
PhysicalAddress.com is a cloud-based virtual mail and address service. We provide a secure streamlined service that delivers high-quality mail scans directly to a client's online private
virtual mailbox
. Access to mail is available across multiple platforms, including iOS and Android. The
mailbox forwarding
service allows our clients to view, open and forward mail from anywhere at anytime.Business clients can setup a
virtual business address
by leveraging multiple premium physical addresses offered by PhysicalAddress.com to attract international clientele, set up a Corporation or LLC, market their company and virtualize their postal mail.