The Advantages of a Virtual PO Box
Businesses are always looking for new and convenient ways to save money. That's why so many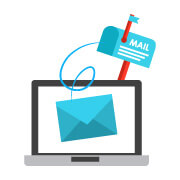 of today's most innovative companies are interested in virtual PO boxes, made possible by the power of the internet.
It's a fact of life that entrepreneurs still need to interact with physical mail. Often it is something their clients or suppliers use. Businesses, however, don't want to have to deal with all the hassle of working with physical pieces of paper every day.
This is where virtual PO boxes come in. Instead of getting the mail sent directly to your place of work, third party virtual PO boxes manage your mail externally. They collect your mail, scan it and then send it on to you allowing you to get on with your day. It seems like a compelling service, but what are the benefits?
You Get A Real Street Address
One of the biggest advantages of a virtual PO box is the fact that you get a real street address. Consequently, even if you run your business from home, you're able to project a professional and prestigious business address to impress all your clients at minimal cost. Often, virtual PO boxes are located in swanky, downtown districts alongside the locations of some of the most successful companies in the country, increasing the appeal of your own operation.
Real Time Alerts When You Get Mail
Another significant advantage of today's modern virtual PO box services is the fact that they are digitised. This means that you can get real-time alerts when your mail arrives, just like you can with regular email. What's more, your mail is also scanned and uploaded to the cloud, meaning that you can access it from anywhere in the world.
It's no wonder that it's gotten so many entrepreneurs excited.
Get Your Mail Forwarded Anywhere
Don't want to view your mail online? No problem. Virtual PO box services will forward your mail to wherever you are in the world right now, keeping you up to date with the latest.
Compatible With Modern Platforms
The vast majority of businesses use either Android or iOS mobile operating systems. As a result, they want services that are compatible with their devices. Not only are virtual PO boxes fully compatible with current mobile technology, but they also enable entrepreneurs to manage their mail too, organising it how they see fit. You can set up folders, view images and PDFs of your mail and check in, no matter where you are. Virtual PO boxes allow you to have all your correspondence, including invoices and receipts, all in one handy virtual location.
Never Pick Up Your Mail Again
Going to pick up your mail is a chore – one that many busy business people could do without. Virtual PO boxes get rid of travelling and grunt work entirely, providing you with quick, seamless access to your physical mail as if it were an email account.
It's Good For Your Environmental Goals
And, finally, virtual PO boxes use far less energy and resources than conventional forwarded mail. Just think how much your business could do for the environment with a virtual PO box.