Opening and Operating a Home Business in New York City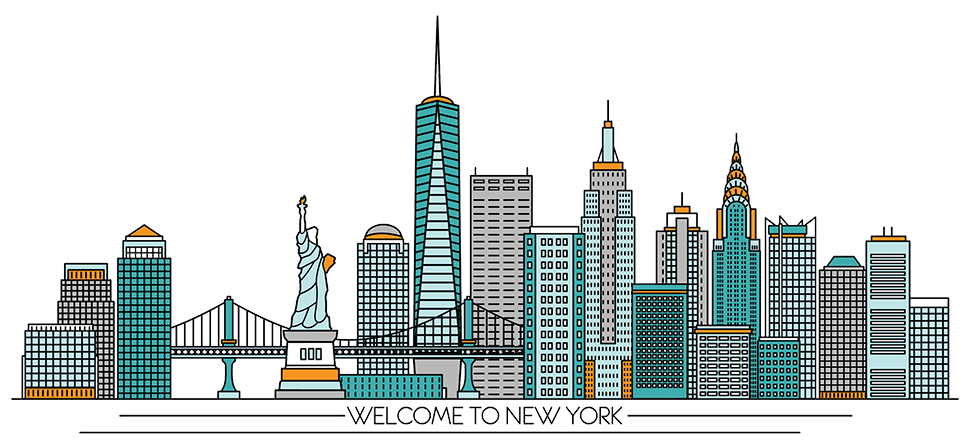 More than 8.3 million people live in New York City, according to the United States Census Bureau's 2019 estimate. It is also one of the most expensive cities in the nation. Roughly 67% of the residents of New York City are renters, paying an average of $3,436 per month when all five boroughs are included. A single-family home had a median price of $571,000 in January 2020, and condos and co-ops went for only slightly less. With so many people crowded into such an expensive area, it is no wonder that many people in New York City are looking for ways to earn more money. However, some people believe that it is impossible to operate a home-based business in New York City. Although there are numerous restrictions, statutes, and conditions that could apply, it is not illegal to run a business from your home. You just need to make sure that you handle even the little details correctly.
Check the Zoning Laws
Once upon a time, live/work spaces were relatively common in NYC. For more than a century, artists were especially drawn to the concept of having their studios only steps away from their bedrooms. Writers, composers, photographers, and a host of other creative types followed suit. However, by the 1970s, new ordinances, the skyrocketing price of real estate, and the gentrification of some of the more affordable neighborhoods contributed to the demise of the concept as it once was. Under current NYC regulations, properties tend to be commercial or residential, and there is little leeway to combine the two. That means that if you own or rent a residence in New York City, it is a virtual certainty that your domicile is zoned as a residential property. If so, you can still operate a business from your home, but you will need to comply with all zoning regulations.
NYC Regulations for Home-Based Businesses
New York City has a list of regulations that you must comply with if you want to operate a business from your home.
1. The maximum square footage that your home office or business can occupy is the lesser of 500 square feet or 25% of the residence's total area. To illustrate, if your apartment has 1,000 square feet of total space, your business cannot occupy more than 250 square feet, while a small apartment with a total area of 600 square feet could not contain a home office larger than 150 square feet. If your condo has 3,000 square feet, your business cannot occupy more than 500 square feet, which is substantially less than 25%.
2. The residence must be used primarily as a home. Your business must clearly be incidental to your use of the property as a home.
3. The person who owns and operates the business must live in the residence. The business is not allowed to employ more than one person who does not reside in the home.
4. The type of business cannot be one of those listed by the New York City Zoning Code as prohibited home businesses.
Businesses That Cannot Be Operated From a Home
Under the city's zoning code, the following businesses cannot be operated from a home office or as a home-based business.
• Advertising agencies
• Barbershops
• Beauty parlors
• Kennels or stables
• Businesses offering electrolysis, depilatory, and similar services
• Insurance offices
• Interior decorators' workshops or offices
• Pharmacies
• Real estate offices
• Ophthalmic dispensaries
• Stockbroker offices
• Veterinarian services
Other Municipal Restrictions
If you operate a home-based business in NYC, there are a few other things that you cannot do.
1. Your business cannot produce any objectionable effects. These include offensive noise, heat, smoke, humidity, dust and other particulates, glare, or offensive odors.
2. You are not allowed to offer your products for sale in your building's lobby, courtyard, or hallway. You are also forbidden from offering them for sale in your home's driveway or yard. In fact, your goods cannot be visible from the exterior of your home or apartment, so forget about window displays.
3. You cannot store products outside of your home or accessory space.
4. Any exterior renovations must be consistent with what is normal for residential properties. You are also forbidden from making renovations that might change the character of your residential neighborhood.
5. If you have a single-family home that lies in a district zoned R1 or R2, the only type of sign or nameplate allowed is one connected with your profession.
6. No signs that can be seen from the exterior are allowed for condos, apartments, multifamily homes, and other properties that are not within the R1 or R2 districts.
Register Properly
The first thing you need to do is choose a legal structure for your business. By default, your business will be a sole proprietorship, but this leaves you personally responsible for any debts that your business incurs. Research the different types to decide what is best for you. With this chore out of the way, you can move forward.
• Register your new business. Sole proprietorships and general partnerships must register with the county clerk. Limited partnerships, LLCs, and corporations must register with New York State.
• Obtain a Federal Employer Identification Number, also known as a Federal Tax ID Number. Sole proprietors can often use their Social Security Number instead.
• Register with the NYS Department of Taxation and Finance to obtain your sales tax permit.
• Research the types and limits of insurance coverage you will need. You should obtain liability coverage, and you may need to obtain workers' comp insurance. Check your renter's or homeowner's policy to make sure that your business equipment and products will be covered; in many cases, they will not be, so you will need a rider or a separate policy.
• Research your business idea to see what other types of regulations might apply. For example, there are special regulations for operating a child care business from home, and there are a couple of additional hoops you will need to jump through if you plan to launch a food preparation business from your home kitchen.
Home-Based Business Ideas for New Yorkers
New York City has been the launching pad for numerous businesses that started small before becoming household names. Your choices are virtually unlimited, but here are a few ideas that might spark your imagination.
1. Hot, home-cooked food can be an enticing treat for people who cannot take an extended lunch break to visit a packed restaurant. You could offer a service where they subscribe to get your homemade food delivered to them.
2. If you have skills, turn them into a business. Web design, content writing, graphic design, editing, animation, and similar skills are ideally suited for a home-based business.
3. New York City is considered by many to be the most linguistically diverse metropolitan area in the world. Although no precise count exists, experts state that more than 600 languages are spoken in the NYC metropolitan area. This means that translators are always needed for verbal and written translations. If you are fluent in more than one language, you could turn your linguistic skills into cash, especially if you are fluent in Chinese, Hebrew, Arabic, French Creole, Japanese, Korean, Turkish, or Yiddish.
4. New Yorkers love their dogs, and their dogs love the outdoors. However, many people have a difficult time taking their pets out for exercise. You could start a business to walk their dogs for them.
5. Some people can spend hours shopping every day, but others find going to the grocery store to be a major challenge. As a personal shopper, you could find yourself selecting and delivering everything from designer clothing to pantry staples.
Other possibilities include commercial and residential cleaning services, online tutoring, floral delivery service, dry cleaning pickup and delivery services, and minor home repair services.
Read Your Lease, Rental Agreement, or Homeowner Association Policies Carefully
In addition to the municipal codes, you need to make sure that you do not run afoul of your HOA, property management company, or landlord, especially if you live in a gated community or controlled-access building and plan to have customers or clients call on you. You should also review any clauses regarding deliveries to your NYC home business address. If the lobby of your building is filled with boxes of products for your business, you could face a problem with your manager. Having a virtual business address service accept your parcels can be one way to avoid the issue. After you are notified that a package has been received, you can pick it up or arrange to have it forwarded to you. Lastly, although this is not an official policy, it is just good business to make sure that you do not cause your neighbors any problems that you can avoid. Your neighbors are likely to be unhappy if they are awakened at the crack of dawn by your customers banging on your door or struggling down the hallway with their orders. Try to limit your activities to normal business hours to help keep peace in your building or neighborhood.