Have you been thinking about running a business from home? A home-based business can allow you a number of benefits, such as saving time and gas traveling to and from work, a more flexible and relaxed work environment, and the simple convenience of being at home throughout the work day. However, don't get overly excited about running a home business until you check into the legalities of it. State, federal, and local governments all place certain restrictions and laws on owning and operating a home-based business. The particular type of business you own may be barred, limited, or regulated by the government.
Cottage Industry Regulation
In accordance with the Fair Labor Standards Act, the Department of Labor can place restrictions on work conducted from home in an effort to enforce minimum wage laws. Businesses that produce certain kinds of products are protected by the government. You may be forced to shut down your home business if you are found to be in violation of this regulation. In addition, criminal and civil penalties may also be applied,
The hiring of contractors or employees who work out of their homes may also be restricted by your state. Before you move your work life to your home, you should check with the Department of Labor in your state to make sure there are no laws in relation to this issue that may prevent you from running your business from home.
Zoning Regulations
Just as it is illegal to reside in some areas that have been zoned for commercial use, it may also be illegal to run a business from a residential area. Maintaining the residential aspect and appearance of a neighborhood is the primary reason for the majority of zoning restrictions on businesses.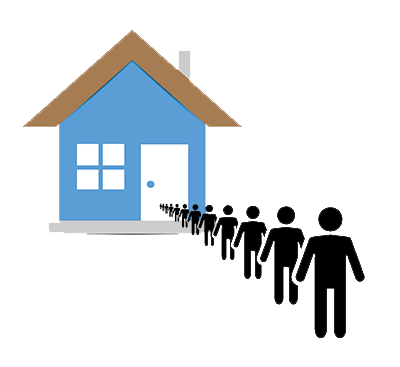 The exact zoning laws in your area may have a profound effect on your ability to own and operate a business out of your home. For example, some zoning laws restrict property owners from building permanent structures separate from the home. Other laws may place a restriction on what percentage of your home can be used for business. Zoning laws in some areas can also place a limit on the number of employees a business operated out of a home is allowed to have. In fact, the laws may prevent you from hiring any employees at all.
Parking and Advertising Restrictions
In an effort to maintain residential appearance and character, local ordinances in your area may prohibit the use of signs advertising your business. Some communities may place restrictions on the amount of traffic allowed in the residential area, as well as place certain parking restrictions in the neighborhood. This could have a detrimental effect on your business.

 
Environmental Restrictions
Certain kinds of equipment are prohibited in some residential areas because of environmental and safety concerns. Smoke, noise, and odors may all be restricted by zoning laws. Disposal of hazardous materials and chemicals may also be prohibited.

 
Business Licenses and Permits
Some areas may require you to obtain a business license or home-occupation permit before you can open your home-based business. The cost may be a flat fee or a certain percentage of the annual income from the business.

 
Zoning Laws Information
Where can you obtain the necessary information in regards to zoning laws in your area? Several options exist:
Do your online research. Check government sources as well as local trade groups, industry associations, and your local Chamber of Commerce.

 
Contact your area zoning board or planning department. If you live within the city limits, they should be accessible through City Hall. If you live outside the city limits, you should be able to contact them through the county offices.

 
Check your lease agreement, homeowner's association, or apartment manager. Depending on your living situation, you may be able to obtain information through various neighborhood resources. Check with your homeowner's association for the policies in your neighborhood in regards to businesses run from home. You should also check your lease agreement if you rent to make sure running a business out of your home is not prohibited. Your landlord, apartment manager, or local activities board may also be able to provide you with information you need in regards to zoning restrictions.

 
Zoning Violations
If you have a home business and are found to be in violation of zoning laws, you may be forced to shut down. In some instances, you may be able to address and take care of the restriction violations so that your business can continue to operate.
Getting the Go-Ahead From Your Neighbors
While a home business can be shut down if it is found to be in violation of zoning laws, the laws are often only enforced if neighbors complain. This is why getting the approval of your neighbors beforehand can be an important step. Out of respect for your neighbors, it is a good idea to keep noise levels, increased traffic, and other possible annoyances to a bare minimum. If they barely even notice your business is right next door, they are less likely to complain.
Put the proverbial shoe on the other for for a minute. What if one of your neighbors were opening a business next door to you? How would you feel about the changes that could possibly take place in your neighborhood? Be respectful of your neighbors and keep noise, odors, or any other annoyances from your business to as much of a minimum as possible.  
Getting a virtual business address can help reduce the business traffic to your house by keeping your home-business address private.
Apply for a Variance
If you run into zoning problems, or anticipate having problems with them, it is possible to apply to the zoning board fir a variance, or waiver. Variances are often difficult to receive and are not casually handed out. To be granted a variance, your business must meet the following criteria:
Enforcement of the zoning law would deprive you of the ability to make a living.

 
The presence of the business would not harm or change the neighborhood.

 
A similar business currently exists in the neighborhood.

 
PhysicalAddress.com is a cloud-based virtual mail and
virtual address
service. Travelers, Students, Military personnel or anyone who would like access to their postal mail via a computer or smartphone can leverage the virtual mail service. Access to mail is available across multiple platforms, including iOS and Android. The
mailbox forwarding
service allows clients to view, open and forward mail from anywhere at anytime.
Business clients can setup a business address by leveraging multiple premium physical addresses offered by PhysicalAddress.com to attract international clientele, set up a Corporation or LLC, market their company and virtualize their postal mail.