Attracting new customers to your business is vital to the success of your small business. Customer acquisition doesn't have to be difficult. In fact, it can be one of the easiest parts of running your business. Use the following foolproof tips to easily acquire new customers and steadily grow your small business.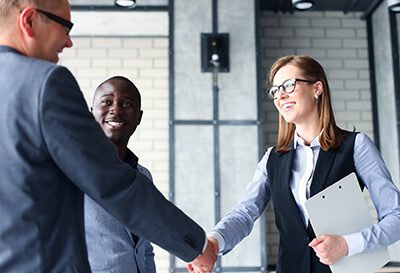 Leverage Current Customers 
One of the best ways to bring in new customers is to create word-of-mouth advertising through your existing customers. If your current customers love you, they are sure to tell others about you. Some will talk about you on social media and in person, but others may need a little nudge. Here are a few ways to politely nudge your current customers to spread the word about you:
 
Offer coupons and discounts in exchange for a customer referral.


 
Give your customers a small commission for each new customer they bring in to your business.


 
Personally ask your current customers to tell their friends about you.


 
Setup an affiliate program and inform your customers about it.  

 
Your current customers are your most valuable asset when it comes to bringing in new business. Treat them right, and they won't forget you.
Publicize 
You don't need an expensive publicist to spread the news about your business. Be your own public relations specialist. Through online platforms such as helpareporter.com, pitchrate.com, and others, you can easily spread the word about your business and bring in a whole new clientele. Use what the Internet gives you and be your own PR expert. Here are some other online platforms to get you going:
 
Use Social Media
The benefits of using social media to create a buzz about your business are too great to number. We are all aware of Twitter and Facebook, but why not reach out to an even larger audience by exploring newer social media sites, such as Reddit, Tumblr, and Instagram? The audience on different social media sites varies greatly, so target your specific audience and make use of this valuable tool to bring in new customers. The possibilities are endless!
Daily deals websites are also a growing trend. Offer deals to customers on sites like Living Social and Groupon and watch your business grow. This is a great method for getting new customers in the door. People are much more likely to try something new if they get a great deal on it. Turn those one-time deal seekers into returning customers with your outstanding customer service!
Establish Yourself as an Expert 
What better way to bring in new customers than to gain their trust and confidence by establishing yourself as an expert in the business? A great way to do this is by giving a speech at a public event. These events can be a great way to gain the trust and respect of potential customers while connecting with them on a more personal level. Another idea is to pass out business cards at the event with a coupon printed on the back. Many experts host webinars to bring in more business. You can also create how-to videos on youtube.com.
Give Away Freebies 
Everybody likes something for nothing, and your potential customers are no exception. Offer a free product, service, or other creative idea and they will be coming into your business in swarms. You need to get people to try your products and services, so give potential customers a free sample and keep them coming back for more.
Host a Local Event 
Clubs, organizations, and other groups are always on the lookout for space to hold events and meetings. Why not offer your business as that space? Offering your place of business as a meeting place or event location can bring in a whole new set of customers. For example, if you own a coffee shop, offer to host a local book club's monthly meeting. This is a great way to bring in new business and create word-of-mouth advertising.
Team Up 
Partner up with another business to bring in new customers and create a buzz about your business. Cross-promotion can be an excellent method for tapping in to their customer base while helping them out as well. It's not likely you want to partner up with a competing business, but combine your products and services with a business that complements yours and watch business start to boom for both of you. Using the example of a coffee shop, team up with a nearby bookstore or pastry shop and get creative with your promotions
While there's no one, sure-fire way to build up your customer base, these ideas should get you off and running in the right direction. Regardless of the methods you choose to bring in new customers, always make sure your customers feel important, taken care of, and special. Great customer service is the best way to ensure your customers, old and new, will keep coming back for more! 
PhysicalAddress.com is a cloud-based virtual mail and business address service. We provide a secure streamlined service that delivers high-quality mail scans directly to a client's online private
virtual mailbox
. Access to mail is available across multiple platforms, including iOS and Android. The
mailbox forwarding
service allows our clients to view, open and forward mail from anywhere at anytime.
Business clients can setup a virtual business address by leveraging multiple premium physical addresses offered by PhysicalAddress.com to attract international clientele, set up a Corporation or LLC, market their company and virtualize their postal mail.