From Home-based Business to Road-based Business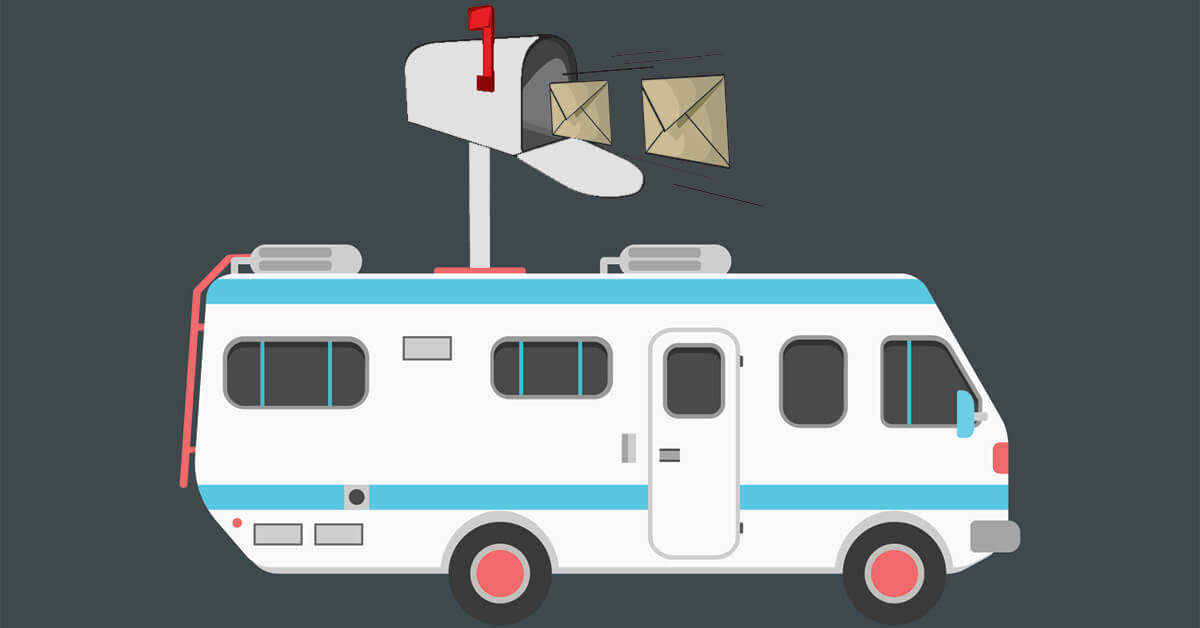 Running a home-based business can entail a number of sacrifices and challenges. Perhaps you do not have as many opportunities to take advantage of all that nature has to offer. Maybe you cannot remember the last time that you took a real vacation. Perhaps you have not been able to prevent neighbors and relatives from dropping by whenever they want, so you are constantly having to work late to handle tasks that were interrupted by unexpected visitors. Maybe you are simply tired of being confined to the same workspace day after day. There may be an appealing solution that combines the freedom of working remotely with the freedom of traveling the nation.
When you think of RVs and Airstream trailers, the first image you may conjure up is of senior citizens whose pensions are funding their seasonal migrations. However, in recent years, entrepreneurs who are well below retirement age are taking the concept of working remotely to new distances. They live and work in RVs, mobile tiny houses, or trailers of all types and sizes. Before you send all of your belongings to storage, list your home, or sell your extra car, however, you need to think through the feasibility of taking your business on the road.
Working From the Road Is Not for Everyone
There are some home-based businesses that simply cannot be taken on the road. For example, if you operate a roofing, plumbing, auto repair, or landscaping business that delivers services locally, there is not much that you can do from a remote location. Similarly, if you manufacture products that require heavy or bulky equipment, you probably need to remain in a fixed location. Of course, if you have already delegated the hands-on work to well-trained employees, you might be able to manage the business from a distance. You will need to carefully consider the nature of your operations, your available resources, and the tasks that you would need to reserve for yourself.
Examples of Businesses That Could Thrive on the Road
The first type of business that could easily be taken from your home to the road is one that can be conducted completely or primarily through the internet. Website designers, graphic artists, content writers, applications programmers, voice actors, illustrators, translators, social media marketers, bloggers, animators, game concept designers, proofreaders and editors, genealogists, and technical writers are just a few examples of people who could likely go on the road without losing sales or customers. If you create video tutorials, offer online music lessons, or conduct research, you can probably work from any location.
However, working on the road is not limited to just online services. If you make handcrafted items that are relatively small, including jewelry, leather goods, baby or lap quilts, face masks, bath bombs, keychains, and hair accessories, you may be able to take your supplies and your tools with you. When the weather is nice, you can even work outdoors to take advantage of the fresh air and natural light. You can mail your products at any post office in the country. Furthermore, being on the road gives you many opportunities to sell your products at craft fairs and other temporary venues along your route.
If you resell items you purchase, see if your supplier offers a dropshipping service. Typically, the package that your customer receives will show your company name and address as the sender. You might also consider starting a store on a platform that will process and ship your orders for you.
Be sure to use your virtual business address as your return address; if your shipment is returned for any reason, you will want to know about it immediately.
What Is a Virtual Business Address?
A virtual business address is a physical mailing address operated by a third-party provider. For an extremely reasonable fee, you can have all of your mail and packages delivered to the provider's location. There are numerous advantages to a virtual address service, especially if you plan to take your business on the road.
Give Yourself Time to Plan the Transition
Transitioning from a home-based business to a road-based business requires a great deal of planning. You will need to decide on the type and size of your RV or trailer. You want to be sure that it includes space for you and any other occupants as well as your business-related items. You will need to decide on a general travel plan for the next year or two. For example, do you want to spend the winter in a warm location, the summer in the mountains, and autumn in New England? What route makes the most sense? Where can you set up along that route? What amenities are offered by the different facilities, and what are the rates? Since reliable internet and cell phone connections are critical, what equipment or services will you need to ensure that you can maintain communications? What personal items will you need to take? If you plan to tow a trailer, do you have a reliable truck or SUV with the ability to do it safely? If you plan to purchase an RV, do you want to tow a small car for local travel? There are many online sites that can provide information, and there are online groups that discuss the nomadic lifestyle that can be excellent sources of first-hand experiences. Do your research before you make any commitments.
Eliminate, Delegate, Automate, and Outsource
Being on the road means that you will not be available every minute of every day. You need to see whether you can streamline some of your business practices to accommodate your new lifestyle. For example, if you have employees, do you really need to hold daily staff meetings? If you normally review payroll checks before they are distributed, could you outsource your payroll to a service that will provide you with online reports? Better yet, could you hire a virtual assistant? Your VA could take care of the payroll review, respond to emails, direct inquiries to the appropriate staff member, and free you from many other administrative tasks. Can you or your VA automate your social media posts? Do you have a knowledgeable employee who could prepare your weekly newsletter, or could you send it out monthly instead? Look at every task as if you will not be able to communicate with your employees, customers, or suppliers for 48 hours. What steps can you take to ensure that your absence will not have a detrimental effect on your business operations?
Consider Adding a Second Business
The life of a digital nomad gives you the opportunity to launch a second business. For example, you could start a travel blog about the locations you have visited, what you liked and disliked about the area, and what you wish you had known before you visited. You could start a photography business to sell or license your stills and videos of exceptional locations, events, or sights. You could prepare an online course to teach others how to take their home-based business on the road. As you learn more about operating a successful road-based business, you will probably think of many other ways to turn your travels into a second business.
Closing Thoughts
The cramped quarters and frequent travel can become burdensome to some people, so try to spend at least a month trying it before you commit. Be sure to budget carefully for fuel expenses, camping or parking fees, maintenance and potential repairs, meals, and laundry services. If you have health insurance, verify whether you must visit an in-network physician or hospital to be covered, and be sure to take a list of providers in or around the locations you plan to visit. With careful planning and thoughtful preparations, you can smooth the transition.